Thanks for stopping by and checking out Pan-Am Racing's Championship Season 2.
Overview
This championship series will be a Sprint style series with driver swaps. Each team will require 2 drivers for the championship (If you have signed up as a solo driver, we recommend you find a co-driver asap so you can participate in this series). The championship will be open to PRO & PRO/AM classes only. The championship will have Six (6) 90 minute races and One (1) 3 hour endurance race.
Everyone who registers for this championship must join our community discord server

Once you join, please follow the steps to gain access to the discord features such as event and server info.

All drivers are to be respectful to each other as close, competitive racing is expected.
Please be mindful that there may be slower drivers and use caution when overtaking.
Registration
As mentioned, this championship series will require 2 drivers for each team. When signing up, you don't have to have 1 PRO and 1 AM driver, your driver line up doesn't matter as your team will be placed in the correct split after our qualifier (see below). Also, sign up under General Entry and we will move you to the correct class once you have completed your required 10 laps at Paul Ricard (see below).
PRO: Each team can be made up of any combination of PRO or SILVER Drivers
PRO/AM: Each team is REQUIRED to have 1 PRO or SILVER Driver and 1 AM Driver (Please see timetable below).
AM: Each team must only have AM Drivers (See table below) - Note: If you are an AM team, there may be a chance that you will not receive a trophy or cash prizes due to this class being an afterthought when the event was planned.
If your team happens to only have 1 driver, you will not be allowed to race until you have 2 drivers on your team.
If you or your teammate are unable to attend a race, your team will not be able to compete in that event. In the event that happens, please just sign out of the event that your team will miss.
We will have a signup form on our discord for you to find a partner.
If your team is entering the championship, both drivers must complete 10 consecutive laps at Paul Ricard and submit a screenshot of your times so we can place your team in the correct split.
Please use the following settings for your 10 lap stint at Paul Ricard - Ambient temp: 20C, Time:18:00, Clear Weather with Optimum Track.
(Note: IF A DRIVER OR TEAM DOES NOT COMPLETE THE HOT LAP QUALIFYING, THAT TEAM WILL BE REMOVED FROM THE CHAMPIONSHIP)
Event Timetable
Sprint Race & Endurance Race
The event server will open at 20:00 Eastern Time*
Qualifying will start at 21:00 Eastern Time*
The race will begin after qualifying is complete**
Race Format
6 - 90 Minute Races
1 - 180 Minute Race
1 Mandatory Pitstops (Pit Window) - Tires, Fuel, Driver-Swap - 90 Minute Race Only
No Mandatory Pit Requirements for the Endurance Race
48 Minute Stint Timer - Endurance Race Only
Will be using Real World Weather - Whatever the weather is forecasted for race day, it will be locked in on the Sunday prior to the race.

To help keep the tires happy, we will be using a track temp minimum of 15C and a maximum of 45C

In-game time progression will be set at a x1 progression
All events will have a maximum of 10 tire sets
Prizes
Championship prizes will be determined by attendance
Greater than 15 teams, will be Real Handmade Trophies for the top teams in PRO & PRO/AM with $40 for P2 and $30 for P3.
Less than 15 teams, will be Real Handmade Trophies for the top team OVERALL with $40 for P2 and $30 for P3
Splits/Classes
The lap times are based on an average of a 30 minute race stint and are not qualifying or hot laps. See timetable below.
Pro: Faster or Within .900 seconds of listed times
Silver: +1 to 1.9 seconds off the listed times
AM: +2 or more seconds off the listed times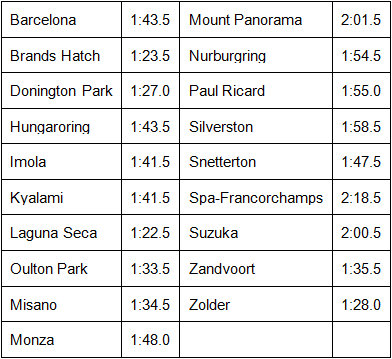 Return To Garage
Using the Return to Garage (RTG) feature will be allowed during Practice and Qualifying ONLY, however, if used in the Race, it will be treated as a retirement from the race. Once you have returned to the pit, please exit the server so it doesn't impede others from using the pits.
When using the RTG feature, please make sure you are in a safe place and off the track/racing line so you do not cause an accident with another player/team. If you do, your team may be subject to a penalty or possibly disqualified from the event or championship.
Stewarding
There will be post-race stewarding. Waiting after an incident on track WILL NOT BE REQUIRED in any championship race for any reason. Please submit all incident reports through our discord channel and the stewards will review the footage/information provided, and after the race, they will assess position/time penalties if necessary.
Custom Liveries
Custom Liveries made outside of the game are permitted in this event, but please bear in mind that they are not officially supported by the game's developers and their use can induce significant latency issues for other users. To avoid the significant lag that custom liveries can cause, we suggest that the teams run the livery but without the .png file. Do not run the liveries of other teams under any circumstances.
Withdraw and Reserves
If a Driver or Team is unavailable to attend the event, head to the "Races" tab, then click on "Admin" and click withdraw. 2 "no-shows" will result in your team being disqualified from the series